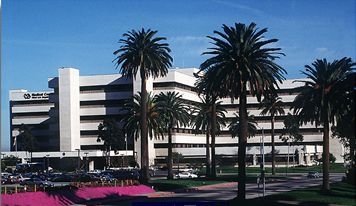 WEST LOS ANGELES VA MEDICAL CENTER
AITCN Program Contact:  Charles Hinkin, Ph.D., ABPP-CN
Neuropsychology Experiences Offered:
Neuropsychology Track / Major Area of Study (At least 50%)
Neuropsychology Emphasis (30% to <50%)
Neuropsychology Experience (>20% to >30%)
Neuropsychology Exposure (20% or less)
Resources / Links:
An overview of relevant Information regarding the internship training program at the West Los Angeles VA Healthcare Center follows. Additional information can be found at the following website:  http://www.psychologytraining.va.gov/westlosangeles/
Brief Description of General Internship:
The Psychology internship program at the West Los Angeles Healthcare Center has been accredited by the American Psychological Association since 1979. It is a generalist program based on the scientist-practitioner model, the core concept of which is the understanding and application of scientific research to the practice of clinical psychology. Of the 37 clinical psychologists on staff at the West Los Angeles VA Healthcare Center, 25 provide clinical supervision in the Training Program.  All psychologists on staff are licensed, are from APA-accredited  doctoral programs in clinical or counseling psychology, and have completed an APA-accredited predoctoral internship.  Many hold clinical and academic appointments at local institutions, including the University of California, Los Angeles, the University of Southern California, and Fuller Graduate School of Psychology.  Psychologists at the West Los Angeles VA occupy a variety of roles in both inpatient and outpatient medical and mental health settings, with several staff members involved in program leadership positions and the majority working in interdisciplinary settings with allied mental health care professionals. Supervisors represent a wide range of theoretical orientations, including cognitive-behavioral, behavioral, integrative, and psychodynamic. In addition to the clinical internship, the Psychology training program provides training for 4-6 practicum students each year, most of whom are from local doctoral programs.   In addition, we have four postdoctoral fellows in four clinical tracks: Geriatric Neuropsychology, Health Psychology-Integrated Care, Polytrauma Psychology, and Trauma.  Interns will have the opportunity to work closely with practicum students and fellows.
Brief Description of Neuropsychology Training:
The APA-accredited internship training program at the West Los Angles VA Medical Center provides a multitude of clinical and didactic neuropsychological training opportunities.  The program closely adheres to the recommendations of the Houston Conference on Specialty Education and Training in Clinical Neuropsychology.  While this internship is generalist in nature and ensures that interns receive adequate breadth of experience, trainees who desire more in depth, focused training in neuropsychology can easily devote 50+% effort towards neuropsychological experiences.
The Neuropsychology Program, headquartered in the Neuropsychology Assessment Laboratory, is affiliated with the Medical Center's Neurobehavioral Unit and the Neuropsychology Postdoctoral Training Program at UCLA. Typically, interns seeking intensive neuropsychological training will devote an entire three-month rotation to this track, though on rare occasions an intern who has already obtained a wide array of non-assessment experience will be allowed to stay on for a second rotation. Additional training in neuropsychological assessment can be obtained on a number of other rotations including the Polytrauma Program/Traumatic Brain Injury (TBI) Program, Ambulatory Care, the Domiciliary, GEM/GRECC (Geriatric Medicine), Geropsychology, and Health Psychology.  If so desired, interns who wish to maximize their training in clinical neuropsychology can structure their training year to obtain neuropsychological experience and supervision on all four quarterly rotations throughout the year.  Interns will be exposed to patients with a wide variety of neurological disorders including Alzheimer's disease, vascular dementia, traumatic brain injury, substance-induced cognitive disorders, toxic/metabolic encephalopathy, seizure disorder, major psychopathology, and subcortical dementias such as Parkinson's disease and HIV-associated neurocognitive disorder.  From a theoretical perspective, interns will be primarily exposed to a hypothesis testing/process approach to neuropsychological evaluation.
Neuropsychology Supervision:
Supervision is provided by a nine neuropsychologists, four of whom are board certified in clinical neuropsychology by the American Board of Professional Psychology.
Neuropsychology Supervisor:
Charles H. Hinkin, Ph.D., ABPP-CN
Director, Neuropsychology Service
Additional Clinical Supervisors for Neuropsychological Assessment:
Steven Castellon, Ph.D.
Fred Kornfeind, Psy.D.
Mona Lam, Ph.D.
Anna Okonek, Ph.D.
Sheryl Osato, Ph.D.
Tara Victor, Ph.D., ABPP/CN
Stacy Wilkins, Ph.D., ABPP/CN
Michelle Zeller, Psy.D, ABPP/CN
Neuropsychology Didactics:
1. Neuropsychology Case Conferences
2. Weekly neurosciences lectures at the UCLA Semel Institute
3. Weekly Neurobehavior seminars presenting research and clinical data on neurobehavioral syndromes and cases highlighting unusual disorders
4. Memory Disorder and Neurobehavioral Clinics
5. Clinical pathology (i.e., brain cutting) conferences.
Neuropsychology Training Objectives:
The training objectives for interns in the Neuropsychology Program are to become familiar, at an introductory level, with knowledge of brain-behavior relationships, to establish a beginning level of competence in neuropsychological practice, to reach an intermediate level of understanding in interpreting research approaches and findings, and to become aware of the emotional consequences of neuropathology and of appropriate methods of psychological intervention. A wide array of research opportunities is also available on this rotation.  Intern involvement can range from attending laboratory meetings to preparing conference presentations or papers for publication.
By the close of the rotation interns will be adept at test administration and scoring. Supervision will largely focus on honing skills in interpretation, differential diagnosis, and patient feedback.  Interns who complete the Neuropsychology rotation will be well-prepared to pursue postdoctoral training. Given the close ties between our VA internship and the UCLA postdoctoral training program in neuropsychology, over the last 20 years an average of one to two interns has been accepted into the UCLA postdoctoral fellowship each year.
GOALS

REQUIREMENTS

1. To improve knowledge of brain-behavior relationships. Particular emphasis will be placed on functional neuroanatomy, integration of neuroimaging and neurological data, and normal and pathological neurocognitive and neuropsychiatric function.

1. Attend Neuropsychology Case Conferences.

2. Focused readings in neuropsychology

3.  Participate in the optional weekly Neurobehavior Clinic and the UCLA Neuropsychology Seminars when possible.

4. Attend Clinicopathologic Conferences (i.e. brain cuttings) when possible.

2. To identify and diagnose basic neuropsychological disorders. Particular emphasis will be given to the more prevalent age-linked dementias such as Alzheimer's disease and vascular dementia, as well as the neurocognitive disorders that are over-represented in the VA patient population (e.g. brain injury)

Administer and interpret at least 12-18 comprehensive neuropsychological test batteries.  Additionally, briefer, focused inpatient evaluations will be conducted as warranted.

3. To write neuropsychological reports at a level commensurate with a non-specialist psychologist.

Write at least 12-18 comprehensive neuropsychological test reports.

4. For interns desiring a career in neuropsychology, to provide the training and experience needed to be competitive candidates for postdoctoral fellowship.

In addition to the clinical and didactic experiences enumerated above, interns anticipating a career in neuropsychology will also be expected to seek involvement in other professional activities such as research, participation in lab meetings, and attendance at scientific conferences.
Setting:
The VA Greater Los Angeles Healthcare System (GLA) is the largest and most complex integrated healthcare facility in the Department of Veterans Affairs.  It consists of a tertiary care facility (West Los Angeles VA Healthcare Center), three ambulatory care centers, and 10 community-based outpatient clinics.  GLA provides comprehensive ambulatory and tertiary care to Veterans in five counties in Southern California, with 801 beds, over 5,000 employees and an annual operating budget of over $770 million.
In fiscal year 2011, GLA provided medical and mental health services to over 83,000 Veterans residing in the primary service area, including Los Angeles County, which has the largest concentration of Veterans of any county in the United States.  It provides a full spectrum of primary and tertiary inpatient and ambulatory care services, including acute, sub-acute, rehabilitation, extended care, mental health services, telehealth, and home healthcare. GLA is one of 21 national Polytrauma Network Sites (PNS) that serves Operation Enduring Freedom, Operation Iraqi Freedom, and Operation New Dawn (OEF/OI/OND) Veterans with complex medical and psychological injuries, including traumatic brain injury. To find out more about GLA, please go to http://www.losangeles.va.gov/index.asp.
The West Los Angeles VA Healthcare Center, which is the site for this internship program, is the hospital, research, and administrative center for GLA.  It is situated on a 430-acre campus with 149 buildings.  The south campus is primarily devoted to medical/surgical and inpatient psychiatric services located in the main medical center building.  The north campus facilities include two 120-bed long-term care buildings (Community Living Center), a 296-bed Domiciliary, the Mental Health Clinic, substance abuse and PTSD programs, as well as research and administrative offices.  The 496-bed California State Veterans Home,which was completed in 2010, is also located on the north campus.
The West Los Angeles VA Healthcare Center is affiliated with more than 45 colleges, universities, and vocational schools.  GLA sponsors numerous medical residencies and associated health residencies, including dentistry, podiatry, optometry, pharmacy, dietetics, and clinical psychology.  Primary university affiliates include the UCLA David Geffen School of Medicine and the USC School of Medicine.
At GLA there are more than 250 investigators conducting over 700 research projects in all areas of medical and mental health, with total expenditures of $43.7 million in 2011.  GLA has numerous VA and NIH funded Research Centers including: The VA Geriatric Research, Education and Clinical Center (GRECC); the VISN 22 Mental Illness Research, Education and Clinical Center (MIRECC); the Parkinson's Disease Research, Education and Clinical Center (PADRECC); the VA Health Services Research Center of Excellence for the Study of Provider Behavior; the Center for Ulcer Research and Education and a VA/UCLA Consortium for gastrointestinal research; and the VA/UCLA Center for the Neurobiology of Stress.
The West Los Angeles VA Healthcare Center is located in one of the most culturally diverse cities in the nation and serves U.S. military Veterans who represent a mixture of ethnic, cultural, and individual diversity.  Of the 68% of Veterans who identified their ethnicity when registering for care, approximately 64% identified as Caucasian, 27% as African American, 5% as Hispanic, 4% as Asian, and 1% as Native American.  Our overall Veteran population is approximately 93% male.  Over 41% of Veterans receiving care here are over the age of 65, with 8% under the age of 35 and 31% between the ages of 55-64 years.  Over 14,600 OEF/OIF Veterans have been enrolled at GLA, with over 5,000 in active treatment.  Of this group, approximately 80% are under the age of 30 and 9% are female Veterans.  With regard to socioeconomic status, 57% of Veterans report an annual income of less than $20,000, with 18% reporting less than $10,000 in income annually.