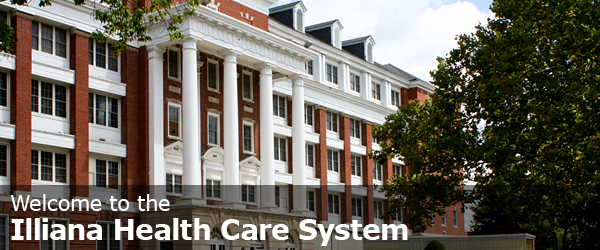 AITCN Program Contact:
Julie Fitzgerald Smith, Ph.D.
 Neuropsychology Experiences Offered: 
Neuropsychology Track / Major Area of Study (At least 50%)
Neuropsychology Emphasis (30% to <50%)
Neuropsychology Experience (>20% to >30%)
Neuropsychology Exposure (20% or less).
Resources / Links:
http://www.danville.va.gov/careers/PsychologyTrainingBrochure.pdf
http://www.danville.va.gov/services/mentalhealth.asp
Brief Description of General Internship:
The Psychology Training Program, which is fully accredited by the American Psychological Association for internship training, has the goal of assisting interns in the development of the knowledge, skills and techniques necessary to function as professional psychologists. Ours is a practitioner / scientist program in that the emphasis is placed upon the various supervised activities an intern might perform. That is, patient care activities, such as assessment and intervention, are typically given a higher priority than more academic pursuits, such as research and teaching. This is not because we devalue the latter; rather, it is because we perceive our site better suited to providing training in patient care functions than university training programs, which seem better suited to providing training in research and teaching. With that bias, we look forward to helping our interns integrate these areas of their training so that each can inform and reinforce the other. The primary method used to achieve this goal is based on the tutorial-apprenticeship model. Interns work with their primary supervisor to design a clinical experience to meet their unique needs participating directly in the work of their primary supervisor. While it is possible to sketch the general character of the intern's involvement, the exact nature of the experience depends upon the intern supervisor mix, for we try to individualize training as much as possible and use our resources to meet unique needs. The intern is expected to produce scholarly work products integrating scientific psychological literature in their assessment of and treatment planning for patients. Our tutorial-apprenticeship model is supplemented by a series of seminars, teleconferences, and consultant contacts. In achieving individualized training objectives, our program requires that each intern demonstrate an intermediate to advanced level of professional psychological skills, abilities, proficiencies, competencies and knowledge in the areas of: a) theories/methods of assessment/ diagnosis and effective treatments/interventions; b) theories/ methods of consultation, evaluation, and supervision; c) strategies of scholarly inquiry; and d) issues of cultural/individual diversity relevant to the above. The goal of which is to produce entry–level graduates who can think critically about relevant theoretical and scientific literature and be able to apply this in their clinical and research work.
The Psychology Staff enthusiastically supports The VAIHCS mission to honor America's Veterans by providing exceptional healthcare that improves their health and well-being. The Psychology Staff is comprised of 27 doctoral level psychologists, as well as a number of psychology technicians, interns, and practicum students. The services of several consultants from the private sector and faculties of universities in the area augment the regular staff of 36. Occasionally the services of volunteers are utilized for specific purposes.
Training functions are directed toward the education and training of graduate students who are candidates for doctorates in clinical or counseling psychology. The training orientation is student-centered rather than technique centered, with focus on work experience which parallels that of staff psychologists and is supplemented by directed readings, lectures and seminars, as well as individual and group supervisory sessions.
Specialized Intramural Training Options: Usually an intern has three primary placements within the facility that last for four months and run sequentially. These primary placements involve a number of training options. These options typically involve, but are not limited to those that are listed below. Neuropsychology is listed separately below.  In reviewing them, it should be kept in mind that these experiences have been constructed out of active patient care programs.
1) Primary Care Mental Health: Psychologists in primary care mental health function as independent members of interdisciplinary treatment teams that include psychologists, psychiatrists, social workers, nurses, and auxiliary therapists from specialized services. Interns, as interdisciplinary team members, develop the skills to make contributions to their patients' individualized treatment plans, as well as take responsibility for providing the psycho diagnostic, psychotherapeutic and case management services necessary for their discharge and maintenance in the community.
2) Outpatient Mental Health: In this placement, an intern becomes a fulltime member of the Mental Health Clinic which, as part of an extensive program of outpatient services, provides a full range of services for Veterans who can be treated on an outpatient basis. Psychological services include individual, group, marital and family psychotherapy. A key part of the program involves coordination with appropriate community/VA services. (This option may not be available due to the organizational shift to a primary care model.)
3) Health Psychology: Focusing primarily on medical or surgical patients, interns in this placement learn to rapidly assess and develop interventions for the psychological components of various disorders, using such modalities as individual, group, marital and family psychotherapy, biofeedback, pain/stress management, hypnosis, and relaxation training. Developing the skills to coordinate psychological interventions with medical treatment and family resources is a major focus.
4) Psychology of Long-Term Care: The psychology of long-term care rotation offers interns training opportunities working with patients who are receiving either short stay (<90 days) or long stay (>90 days) care in our extended care facility aka Community Living Center (CLC). The wards covered in this rotation include rehabilitation, palliative care, dementia, wander guard, and general long and short stay wards. Patients in the rehabilitation ward are typically receiving care for wounds that require long term antibiotic treatment or patients needing physical rehabilitation secondary to an acute illness such as a CVA or surgery. Veterans in our palliative care ward are end of life/hospice patients receiving comfort care. We also have a closed ward for patients with advanced dementia who are still ambulatory and need elopement/wandering precautions. Furthermore, we have a wander guard ward for patients who are as risk for elopement/wandering for various reasons including cognitive and/or psychiatric impairments. Then finally we have general wards for long term stay residents receiving nursing home care and for short term residents receiving various services including physical rehabilitation or respite. The population on these wards is predominantly geriatric; however some of the wards do occasionally serve younger patients.  All new admissions receive a psychological evaluation. Even though we are an extended care facility we have a rather high turnover rate. Patient's mood and cognition are evaluated using a combination of clinical interview and assessment measures. In addition, psychology is responsible for completing capacity evaluations and assessing patients for suicidal risk as necessary. Furthermore, psychology functions as part of a multidisciplinary team and assists the team with behavioral management issues and management and treatment of patient's psychiatric needs. There is opportunity for both short term and long term psychotherapy as well as providing staff education.  The psychology of long-term care rotation can be taken either as a primary or secondary rotation.
5) Substance Abuse Rehabilitation: Focusing on alcohol and other drug dependencies, this program bases its treatment on Rational Emotive Therapy and features individualized modules involving lectures, group discussions, relaxation, social skills, assertion and relapse prevention training. In this placement, an intern can anticipate experience in assessment, treatment and follow-up activities.
6) Outpatient PTSD: In the Outpatient PTSD Clinic, interns will learn to evaluate referrals to the clinic using interviewing and psychodiagnostic skills. Interns become full-time members of the PTSD Clinical Team (PCT) accruing a caseload and providing a full range of services to Veterans and their families on an outpatient basis. Treatment modalities in the PTSD Clinic include individual, group, marital, and family therapy. Providing PTSD education to Veterans and their families is also an important component of treatment. In addition, interns have the opportunity to strengthen skills with particular techniques for relaxation, stress management, etc., by developing and facilitating special focus groups. An important training goal for interns will be the ability to acquire and implement a conceptual model for understanding and treating trauma that effectively addresses the biological, psychological, affective, and spiritual injuries sustained from exposure to trauma. Special emphasis is given to evidence-based treatment modalities including Prolonged Exposure Therapy, Cognitive Processing Therapy, Acceptance and Commitment Therapy, and Motivational Enhancement Therapy. Some PTSD clinical staff have been trained in PE by Edna Foa, Ph.D. and Elizabeth Hembree, Ph.D. Interns will have the option to participate in the specialized assessment and treatment of dually-diagnosed Veterans suffering from PTSD and substance use disorders. The PTSD/SUD specialty area utilizes an interdisciplinary treatment collaboration between PTSD and SARP, with a focus on safe coping skills and relapse prevention. Training in Military Sexual Trauma and some of the unique issues involved in treatment is also available. Interns can also request training in Theophostic Prayer as a treatment modality for trauma victims. The PTSD clinic utilizes a team approach to training and interns will be provided the opportunity to gain experience with each staff member, as well as attend specialized, interdisciplinary meetings to address issues such as: care for polytrauma victims and the seamless transition of Veteran's care from active duty to the civilian sector.
7) Home Based Primary Care (HBPC): This rotation is located within the Home Based Primary Care program providing psychological services to Veterans who are essentially home bound due to medical conditions. At Illiana, the population served ranges in age from the fifties through end of life, primarily within rural settings. The clinical needs vary greatly with a predominance of adjustment, anxiety disorders, mood disorders, and cognitive disorders. The intern is expected to function within a multidisciplinary team and can expect close interaction with the members of the HBPC team. Working with the HBPC Psychologist, the intern will conduct brief psychological evaluations for mood, cognition, and adjustment, more comprehensive assessments when indicated, and may develop a small therapy caseload. Working with our team and within the Veterans' homes is very rewarding, clinically challenging, and an experience unlike office-based clinical practice.
8) West Lafayette Community-Based Outpatient Clinic (CBOC): In the CBOC, interns will have the opportunity to work with a diverse, outpatient Veteran population in individual, group, and couples' therapy. Interns will conduct both short- and longer-term interventions based on an assessment of each Veteran's unique needs and goals for therapy. Interns will gain experience in the integrative treatment of such presenting concerns as Posttraumatic Stress Disorder, depression and other mood disorders, acute stress reactions, grief/loss, post deployment readjustment, interpersonal problems, and other difficulties that interfere with Veterans' functioning and quality of life. Psychoeducation, skill-building, and identification of Veterans' strengths and areas of resiliency are frequent components of these interventions. Specialized training in, and supervision of, Prolonged Exposure therapy and Cognitive Processing therapy are available. Trainees will also gain experience in the psychosocial rehabilitation model and feminist therapy, both of which emphasize individuals' strengths, choice and autonomy, expertise on their own lives, and respectful and egalitarian therapeutic relationships. The CBOC is an interdisciplinary clinic and trainees will also gain valuable experience in embodying the role of the psychologist in an outpatient community setting and collaborating with primary care providers and other disciplines in triage and treatment planning. Trainees will also gain experience in working with Veterans who are ambivalent about psychotherapy or are very new to mental health treatment.
Brief Description of Neuropsychology Training:
There are two different batteries used in the clinic (fixed, flexible) used to conduct individual evaluations of psychological functions in veteran's affected by brain damage.  Results are used to provide remediation planning and follow-up services to veterans and their families. Interns learn to administer and score many standard neuropsychological tests, to design individual test batteries, and to write interpretive reports. Resources in the area are extensive enough to support two training options: an introductory experience emphasizing assessment issues to help interns develop the skills necessary to recognize brain syndromes as well as make intelligent use of neuropsychological resources, and an advanced experience which combines training in assessment with training in intervention and case management. Previous coursework and practica in assessment are needed. The neuropsychology-advanced experience is designed to provide clinical experiences consistent with INS/Division 40 guidelines for internship.
Neuropsychology Supervision: 
Julie Fitzgerald Smith, Ph.D.
Richard Bowles, Psy.D.
Currently recruiting a third staff member.
 Neuropsychology Didactics: 
Didactics are created each year based on the needs of the Neuropsychology student.  Recent topics include:  Neuroanatomy, Neuroimaging, Vascular System, Psychometrics/Test-construction/Selection, Substances in Neuropsychology, CVA, Agnosia, Effort in the applied/clinical setting, and Epilepsy/Seizures.  During the Neuropsychology rotation there is a weekly Neuropsychology didactic as well as a general Mental Health didactic.  There are many additional didactic opportunities throughout the year throughout the VA system.
Neuropsychology Training Objectives: 
Demonstrate competency in the eight basic skill areas of Neuropsychology:

  Models of Neuropsychological Assessment, Test Administration Scoring, Clinical Interview/Consultation, Test Selection, Diagnosis, Test Interpretation/Report Writing, Intervention, and Neurology/Neuroanatomy.

        

Demonstrate entry-level skills in choosing a battery of tests and combining neuropsychological instruments to address specific neuropsychological referral question/hypotheses.

Demonstrate entry-level skills in test interpretation and case conceptualization of neuropsychological issues.

Demonstrate an understanding of the various approaches to neuropsychological assessment.

Develop effective staff relationships in a variety of settings and function as a consultant to referral sources.

 

Expand the intern's knowledge in the area of Neurology by attending Neurology clinic and Neurology ward rounds when available.

Expand the intern's understanding of differential diagnosis of commonly seen conditions.

 

Increase understanding of related medical conditions and medications that compromise cognitive functioning.

Become more knowledgeable of functional Neuroanatomy and resulting changes from impairment to specific brain areas.

Become more familiar with available options for rehabilitation of neurological disorders.

Gain experience in making recommendations for treatment and provide appropriate feedback to patients and families.

Become more adept at personality test interpretation and feedback.

Ethical Issues: Demonstrate an understanding of ethical issues on a case-by-case basis specifically addressing issues of assessment, test management, and confidentiality as they relate to Neuropsychology.

  The intern will observe VA policies and procedures, laws of professional behavior, and the APA code of ethics.

Multicultural Issues: Demonstrate tolerance for and acceptance of cross-cultural diversity and individual differences in the therapeutic relationship on a case-by-case basis.
Setting:
The City of Danville: Danville is located in a rich farming area of East Central Illinois, one mile west of the Indiana State line, 132 miles south of Chicago, 90 miles northwest of Indianapolis, and 198 miles northeast of St. Louis. The main campus of the University of Illinois is 30 miles west in Urbana-Champaign; the main campus of Purdue University is 56 miles northeast in West Lafayette; and Indiana State University is 57 miles south in Terre Haute. An excellent network of highways facilitates transportation. The city is on Interstate 74, US 136 and 150, and State Route 1. Danville is a diversified, industrial city with a population of approximately 33,904, the major retail center in a county with a population of about 83,919. The racial makeup of the city is approximately 70.2% white, 24.4% black, 4.6 Hispanic, and .8% other races. Families in Danville can choose from a variety of schools for their children ranging from public schools to parochial schools of Baptist, Catholic and Lutheran faiths. The Danville Area Community College offers about 1500 courses to approximately 5000 students on its 75-acre campus immediately adjacent to the Danville VAMC. Danville is proud of its community symphony, theater, light opera guild, choral societies, art league, and baseball and hockey teams. A civic center hosts performances by performers with national reputations. Other cultural opportunities of the highest caliber abound within easy driving distance of Danville: Indianapolis, Chicago, and St. Louis. All have major symphonies, art museums, theaters, opera and dance companies, as well as professional football, basketball and baseball teams. The Krannert Center for Performing Arts at the University of Illinois in Urbana and the Assembly Hall at the University of Illinois in Champaign provide the settings for performances by a variety of companies of international caliber. Big Ten sports of all kinds are available at the University of Illinois. The city of Danville maintains 8 parks and recreation areas. Three county parks and a state recreation area provide campgrounds, picnic sites, fishponds, hiking trails, scenic views and other attractions for the entire east-central Illinois area.